Exterminator Rye Brook NY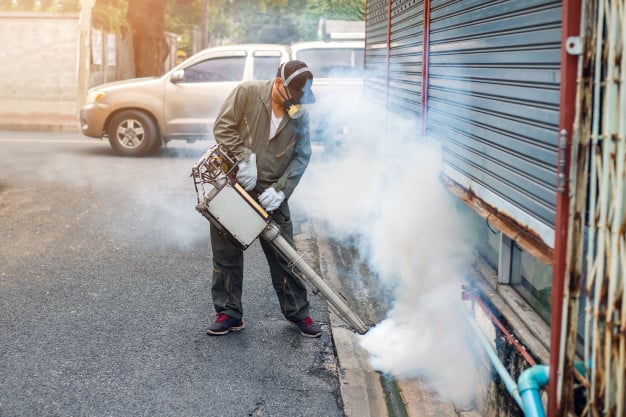 Top Reasons to Hire a Termite Exterminator Instead of Doing It Yourself
If you've recently discovered that your home has been invaded by pests, you need to act as quickly as possible. Whether you're in need of a bed bug exterminator, a termite exterminator, rodent control, or any other pest control service, the sooner you contact a professional, the better. RID-IT is the leading pest control company that specializes in all types of pest removal and control, including bed bug removal, termite control, cockroach extermination, and the removal of all types of rodents. When RID-IT Exterminators are on the job, you can have confidence knowing that your home or business will be completely freed of any and all types of pests.
Have you noticed any mud tunnels on your foundation? Have you spotted a swarm of translucent wings on your property? Are there tiny holes in any of the wood on the inside or outside of your home? If so, then there's a pretty good chance that you have a termite infestation.
Termites can cause serious damage; in fact, it's estimated that they cause upwards of $5 billion worth of property damages across the US each year! In order to avoid serious problems, as soon as you suspect termites, you need to act fast. While there are products you can use to try and remedy the problem yourself when it comes to pests that are as problematic as termites, forego the DIY route and hire a professional instead.
Here's a look at some of the top reasons why you should hire a termite inspector instead of doing it yourself.
Knowledge and Experience
Despite all of the tutorials you may have watched and guides you may have read, unless you have received specializes training in termite control and you have ample experience behind you, it's best to leave termite extermination in the hands of a professional.
Professionals undergo extensive training. They know the ins and outs of pest infestations and can properly identify the problem areas, the points of access, and determine the best solution.
With the knowledge and experience of a pest control expert, you'll get much more effective results.
More Solutions and Improved Safety
A pest control company will have access to more pest control solutions than you could ever find in a store. Plus, they'll know how to use the products safely so that you, your family, and your pets can avoid harm. A professional will be able to determine the best course of action to treat your infestation and will ensure that the products are properly applied.
Effective Control
For a layperson, trying to eradicate and control an infestation of termites can be very challenging. For example, you might only be applying the pesticide to a small portion of the infestation and missing the major source, which means you'll never really be rid of the issue. If you want the best results possible, you're going to want to hire a professional to do the job for you.
Faster Results
When it comes to termite infestations, you need to act fast. These pests multiply quickly and can take over your entire property in no time. In order to get the problem under control, fast treatment is essential. A professional pest control company will not only have access to all of the necessary tools but will be able to apply the treatment as quickly as possible and prevent the infestation from spreading.
Cost Effective
Cost is one of the leading reasons why people attempt to handle termite extermination on their own. While it is true that you have to pay for the services of a professional pest control company, you'll actually save yourself a lot more money if you hire a pro. When you try to do it on your own, you could end up applying the wrong products or not applying them properly to really treat the problem, which means your property could be damaged even more. The amount you'll save when you hire a pest control operator will be well worth the cost; plus, you'll save yourself a great deal of time, too.
"Life and let live" is a wonderful philosophy to abide by, but when it isn't one that should be applied to termites. The benefits of hiring a professional to eradicate a termite infestation far outweigh the initial cost; and, you'll end up saving more in the long run, anyway.
RID-IT Exterminators: The Bronx's Most Trusted Termite Exterminator
While taking a DIY approach can certainly be worthwhile for a lot of projects, it definitely isn't advisable for termite control. If you want to stop termites in their tracks, you're going to want to call in the experts. RID-IT Exterminators will ensure that your termites are gone, once and for all. To schedule an appointment with the most trusted pest control company in Westchester, call 914-614-4758 today!